Monday, December 13, 2004
MISSION: POSSIBLE


While I will always believe that nothing will ever compare to the pain I felt (and am still feeling) when I lost Papa, I know that the world does not owe me anything and that it will not stop for my grief. It has far more greater and more important concerns. And while there are a few things that have been bugging me the past weeks, I know that compared to other people, I am still considered lucky and very blessed.


Last Saturday night, while the whole nation was celebrating Pacquiao's victory over Fahsan, I found myself on a bus with volunteers from UP-Pahinungod, a handful of doctors and my mountaineer friends. No, we were not going to conquer another mountain. We were on our way to the town of Real in Quezon for a medical mission. My mom didn't want me to go after seeing Quezon's current state on CNN. But I told her that I had already said yes and there was no way I was passing up the opportunity to help.


We got to Brgy. Tignaon's elementary school at around 4am and started the medical mission an hour later. Ethel and I were assigned in the registration table. Our job was to write down the person's name, age, sex, status and chief health complaint in a log sheet. In another piece of paper, we had to write all those things down again, give it to the patient, have their blood pressure and temperature taken and refer them to a doctor for consultation.


Funny story. I was attending to this middle-aged man...
Me: Sir, kasal na po ba tayo? (was asking for his civil status)
Man: Tayo? Hindi pa. Pero sana sinabi mo saakin noon pa para nahintay kita.May asawa na kasi ako ngayon, iha.


Both of us laughed. Hehehe! Cute. See? Some people still know how to crack a joke inspite of all the troubles they go through.


What's weird was, almost everyone had the same ailments. The common ones were abdominal pains, cough and colds, dizziness and athlete's foot.


The medical mission was supposed to end at 3pm but they cut it short to 12nn, for reasons I don't know. Sayang nga eh, coz we really wanted to stay pa. Time flies pala when you're helping others. As long as you're doing it from the heart, ha.


I was looking at each of my friends yesterday. Each one of them were really into what they were assigned to do, no matter how menial or small our role was. And I think it was when I was looking at Ervin, handing out medicines and explaining to a patient when and how many times in a day she should take the meds, that I was left in awe. Here they were, people who drink like whales (hehe!), some smoke like chimneys (*raises hand*), they play pranks on one another, some people would probably think they've never had a serious moment in their entire lives because they're forever goofing around. But here they were, taking a risk, giving up their weekend to help. And I could see it in their faces...how truly sincere they were. How undescribably concerned they were for the people who lost homes, loved ones, belongings, food. And that really warmed my heart. It hit a spot. It made me feel so proud to be with these people, to be able to call them good friends.


And so, the world continues to turn. While I terribly miss my dad, while I sometimes sit at home and try to picture that he's still around and that he's probably on his way home, while I sometimes need to sneak out to just cry because I want to talk to Papa, I have to realize that the world will not stop to sympathize with my problems and my worries. It will go on. Move on. And in a way, I think it's telling me to do the same thing. And deep in my heart I know, Papa would want me to do just that.


Will do, Papa. Will do.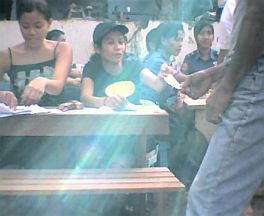 Me and Ethel at work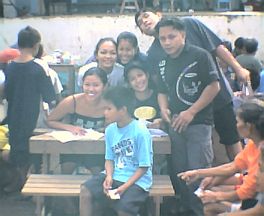 Photo break with fwends
about moi


Loves the beach, wishes she had more time and money to travel, recently got hooked to climbing mountains, reads anything she can get her hands on, frustrated writer, adores her 3-year-old Lhasa Apso, Tashi, constantly needs caffeine, wonders when she'll quit smoking, and will most likely die due to liver complications from drinking too much (if the cigarettes doesn't get to her lungs first). Can't live without accessories especially big, dangling earrings, shoe freak (aren't we all?), sucker for discovering hole-in-the-wall restaurants, will ingest anything spicy, enjoys giving and receiving massages, addicted to Friends, Sex and the City and CSI, goes gaga over kids, dreams of being alone with Jim Morrison and smoking a joint with Bob Marley. Would love to party with Gwen Stefani, shop with Patricia Field, write poetry with Maya Angelou and have Sting, Nelson Mandela, Mark Twain and Bono over for dinner.

View my complete profile
Custom Search
past bitchings

January 2002February 2002March 2002April 2002May 2002June 2002July 2002August 2002September 2002October 2002November 2002December 2002January 2003April 2003May 2003June 2003July 2003September 2003February 2004March 2004April 2004May 2004June 2004July 2004August 2004September 2004October 2004November 2004December 2004January 2005February 2005March 2005April 2005May 2005June 2005July 2005August 2005September 2005October 2005November 2005December 2005January 2006February 2006March 2006April 2006October 2006November 2006February 2007March 2007April 2007May 2007July 2007October 2007December 2007January 2008September 2009January 2011
photoblog
blog worthy

Ananova
Babygirl
Beabear
Bitch, please
Blue Arden
Born to Ride
Burberrified
Caffeine Rush
Caramba!
Car Driver
Cheesedip
Chel
Chona
Reaching for Chocolate Stars and Sapphire Dreams
Click mo mukha mo!
Closet Introvert
Color in a Gray Cube
Confessions of a Coke Addict
Confessions of an OJT Killer
Creating Space 101
D'fukc
Deniseye
Din's World
Emerald Pastures
Fran
Francine
Rene
Hungry Alien
IMODO.COM
I came, I saw, I blogged
*Incoherent
Intelektwal Interkors
K
Lavander Kitten
Lone Star Psychedelia
Meatloafster
Memento
Mighty Girl
Modified Memories
Monchers
Nocturnal Angel
Not Square
Odette
Of Life and Peanuts
One Seater Plane
Peepai
Pile o'smeg
*Photo Seko
Pinay Hekmi
Purple Beanie
Purple Toes
Renaissance Girl
Rock the Boat
Sabitski Point
Shai
Stories Under the Sun
Sunbathing
Sunny Side Up
Sunshine
Table for One
Ten Years Later
The Blurb
The Digital Pinoy
The Dork Side
The Ultimate BlogHopper
Tinggay Forever
Undiscussable Realms
Unica Hija
Vea
Vikkicar
Warcar: no bumper
What a Pansy Fancies
White Sky Project
Wytch's Brew

*freshly added
wishlist
Platform Wedge Sandals by Michael Kors
Semiprecious chain earrings by Cynthia Dugan
Thump by Oakley (mp3 player and shades in 1!)
quotable quote

"Love is not love, which alters when it alteration finds."
~William Shakespeare, Sonnet cxvi
in my book bag
credits

blogskins
Blogger
blogsnob. show off your websites. http://blogsnob.idya.net
# FlipBlogs ?
Rice Bowl Journals
# Filipina O+ ?
PINOY BLaGGER


original skins
title : w4rnawarni: (pink) bikini girl (Adfree) designed by w4rnawarni @ blogskins